Après 15 jours de combats, le Président turc Recep Tayyip Erdoğan a mis fin à l'offensive qu'il avait entrepris contre le Rojava, un territoire syrien occupé et administré par les Kurdes depuis 2013. Face à l'indignation des dirigeants et l'action des diplomates américains puis russes, une suspension des hostilités avait été acté jeudi dernier, et ce mardi, un accord qualifié « d'historique » a été trouvé en le Président turc et son homologue russe Vladimir Poutine. Les hostilités se sont ainsi arrêtés, après que des centaines de millers de personnes aient fuient la zone.
Les combats interrompus
L'information est tombée ce mardi, dans la soirée, quand Recep Tayyip Erdoğan et Vladimir Poutine ont annoncé qu'un accord « historique » avait été trouvé. L'armée turque a décidé d'arrêter sa progression sur le sol syrien, actant la « pause » dans les combats qui était en vigueur depuis jeudi dernier. Les forces kurdes ont quitté le territoire, et ne représentent plus un danger pour le gouvernement d'Erdogan. « Aujourd'hui, avec M. Poutine, nous avons conclu un accord historique pour la lutte contre le terrorisme, l'intégrité territoriale et l'unité politique de la Syrie, ainsi que pour le retour des réfugiés », a précisé de Président turc.
Entreprise le 9 octobre, l'objectif de l'offensive turque est officiellement de sécuriser une bande de 32 km de large, au-delà de ses frontières, pour protéger son territoire des Unités de protection du peuple Kurde (YPG), la milice qui défend le Rojava et qui est considérée par Ankara comme un groupe terroriste. Cette invasion rappelle les vives tensions existant entre les Turcs et le peuple kurde. Ce dernier réclame depuis un siècle un territoire national indépendant, le Kurdistan, qui engloberait une partie de l'Iran, de l'Irak, le Rojava en Syrie mais aussi une partie de la Turquie. On estime que 12 à 15 000 000 Kurdes y vivent. Beaucoup d'observateurs internationaux soulignent les inquiétudes du Président Erdogan : si, comme ils l'ont fait en Syrie, les Kurdes de Turquie voulaient prendre le contrôle d'une partie du territoire, ils représenteraient un danger important pour Ankara.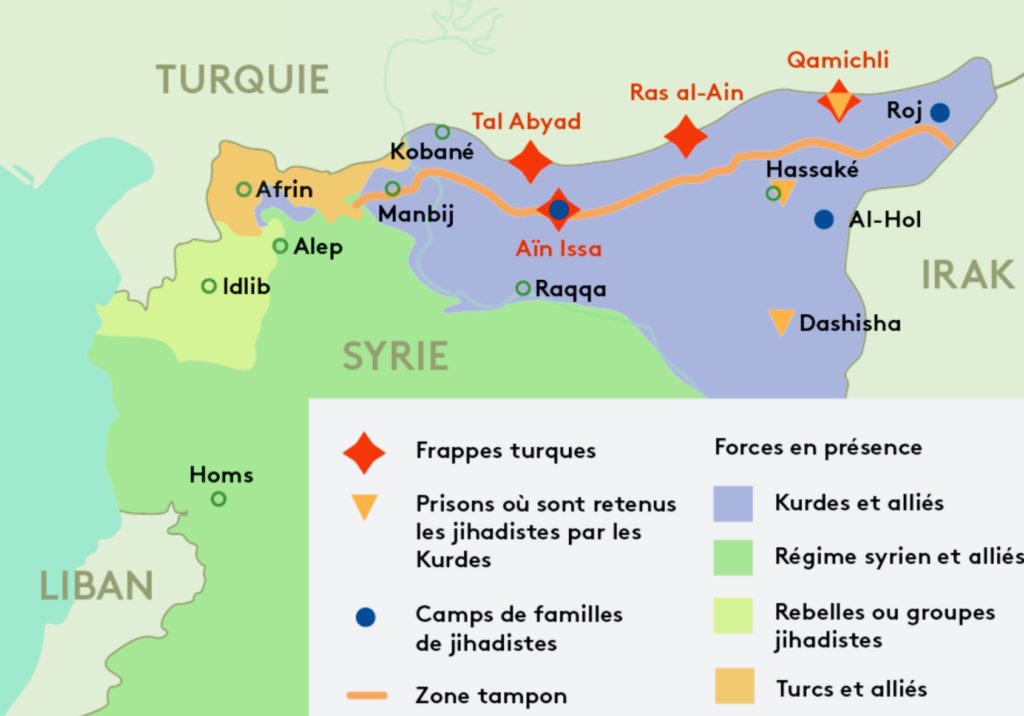 Carte du territoire frontalier, théâtre de combats très violents qui ne devraient pas reprendre en raison de l'accord entre la Turquie et la Russie. (Crédits Photo : Franceinfo)
Si la cause de l'offensive est donc sujette à litiges, la situation après 12 jours de combats l'est aussi. L'armée turque, avant la trêve décrétée jeudi, a essayé de prendre plusieurs villes et villages aux mains des Kurdes, qui peuvent désormais compter sur l'aide de Bachar al-Assad. Le Président syrien a envoyé ses troupes pour repousser l'invasion turque hors de ses frontières, inquiétant encore davantage les dirigeants internationaux. Les combats ont fait plusieurs centaines de morts, même si les ONG ayant dû fuir la zone, il est difficile d'avancer de chiffres précis.
Jeudi dernier, juste avant l'arrêt des combats, les autorités kurdes ont accusé Ankara d'avoir utilisé des armes chimiques dans les bombardements intensifs qui frappent la région. « En violation flagrante du droit et des traités internationaux, l'agression turque contre (Ras al-Aïn) est menée avec tout type d'armes », se sont-elles alarmées dans un communiqué, avant d'ajouter que « face à l'échec évident de son plan, Erdogan a recours aux armes interdites internationalement, comme le phosphore ou le napalm ». Des affirmations aussitôt démenties par l'armée turque. Au total, on estime que 300 000 Kurdes ont fui le territoire frontalier, et la suspension des combats décidée par le Président turc a permis à d'autres individus de quitter la zone en sécurité.
Le possible retour de Daesh
C'est une inquiétude partagée pour l'ensemble de la classe politique, en France comme à l'étranger ; celle de l'avenir des jihadistes et de leurs épouses, prisonniers dans des camps sur le territoire kurde. La déstabilisation de la région est propice aux évasions, et plus largement à « la résurgence inévitable de Daesh dans le Nord-Est syrien et probablement dans le Nord-Ouest irakien », selon le Premier Ministre Édouard Philippe, qui s'est exprimé mercredi sur le sujet à l'Assemblée Nationale.
D'après les chiffres kurdes, 800 jihadistes se sont ainsi échappés. Il faut toutefois relativiser cette information, publiée mardi, et depuis remise en question. Dans les camps syriens, les membres de l'EI se confondent en effet avec d'autres prisonniers mais aussi avec des femmes et des enfants isolés. Le camp d'Aïn Issa, où se seraient produites les évasions n'échappe pas à cette configuration équivoque. Jeudi dernier, l'organisation terrorise a par ailleurs affirmé avoir « libéré » 800 autres détenus. Il s'agirait de « femmes musulmanes », dont les maris jihadistes ont probablement été tués.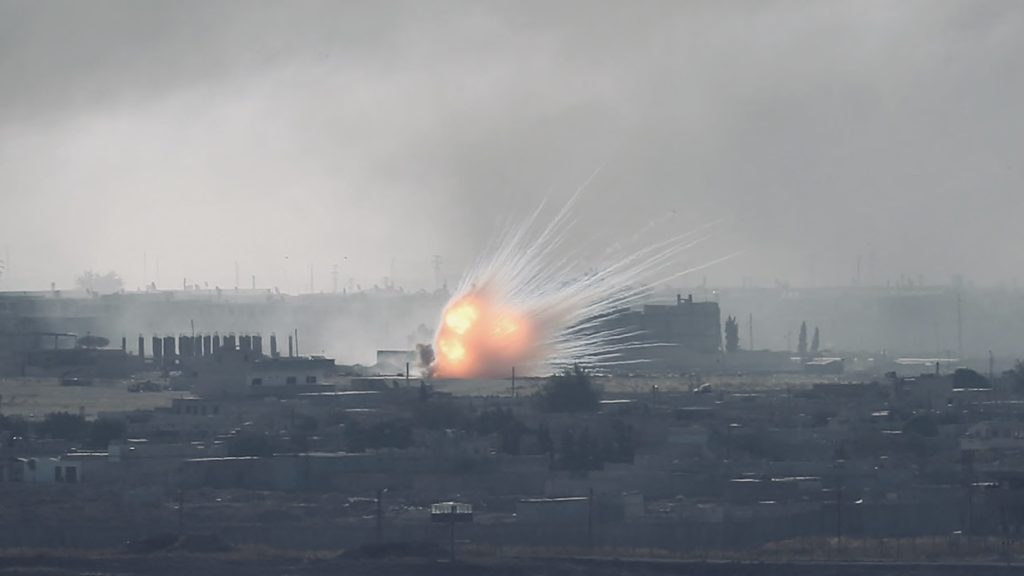 Une explosion près Ras al-Aïn, en Syrie. Il y a encore 2 semaines, la ville comptait 50 000 habitants, aux origines ethniques singulièrement variés.  (Crédits photo : Reuters)
Cette situation n'est pas sans inquiéter les gouvernements occidentaux. Jeudi dernier toujours, le Ministre français des Affaires Étrangères, Jean-Yves Le Drian s'est rendu en Irak, préoccupé par le sort des prisonniers français détenus en Syrie. Ils sont au moins 80 sur les 12 000 détenus par le YPG, et la France souhaite que Bagdad les prennent en charge et les jugent. Depuis son entrevue avec son homologue irakien, aucune annonce n'a été faite ; en coulisses, les pourparlers sont difficiles, et les autorités irakiennes n'ont pas envie d'avoir à leur charge des prisonniers étrangers accusés de terrorisme.
Une médiation diplomatique profitable
Le retrait des troupes américaines, intervenue le 9 octobre, a laissé sans protection importante le territoire kurde. C'est cette décision de Donald Trump est à l'origine de la décision de Recep Tayyip Erdoğan de lancer l'offensive contre les Kurdes. Néanmoins, face à la pression internationale, l'administration Trump a décidé d'intervenir en envoyant jeudi une délégation à Ankara, composée du Vice-Président Mike Pence et du Secrétaire d'État Mike Pompeo. Ils ont négocié le cessez-le-feu de 5 jours qui a pris fin ce mardi. Une négociation réussie, puisque juste après la fin des discussions, l'arrêt temporaire des combats a été annoncé. « C'est un grand jour pour la civilisation », s'est félicité Donald Trump, avant d'ajouter : « Les Kurdes sont incroyablement heureux de cette solution ».
En réalité, le terme de « cessez-le-feu » n'a pas été  employé par les diplomates turcs, qui durant ces 5 jours de trêve ont parlé d'une « pause », insistants sur le caractère temporaire de l'arrêt des frappes et de l'avancée des troupes armées. Ce mardi, c'est Vladimir Poutine qui a reçu le Président turc. En Russie, les deux hommes ont évoqués la situation ; à l'issue de cette entretien, un accord a été conclu. « A ce stade, il n'existe pas de besoin de mener une nouvelle opération », a indiqué le Ministère de la Défense turc.
Big success on the Turkey/Syria Border. Safe Zone created! Ceasefire has held and combat missions have ended. Kurds are safe and have worked very nicely with us. Captured ISIS prisoners secured. I will be making a statement at 11:00 A.M. from the White House. Thank you!

— Donald J. Trump (@realDonaldTrump) 23 octobre 2019
« Grand succès à la frontière Turquie / Syrie. Zone de sécurité créée ! Le cessez-le-feu a eu lieu et les missions de combat ont pris fin. Les Kurdes sont en sécurité et ont très bien travaillé avec nous. », a twetté Donald Trump avant de s'exprimer devant la presse.
Les combats ont donc pris fin, laissant un territoire kurde dépeuplé de centaines de milliers d'habitants. Les forces turques et russes vont assurer des patrouilles communes dans la zone, pour en assurer la sécurité, même si beaucoup d'incertitudes planent encore sur l'avenir de cette région en proie au terrorisme et aux conflits armés. Ankara a prévenu : si les forces kurdes tentent de reprendre ce territoire et de conserver leur autonomie, les opérations militaires reprendront.