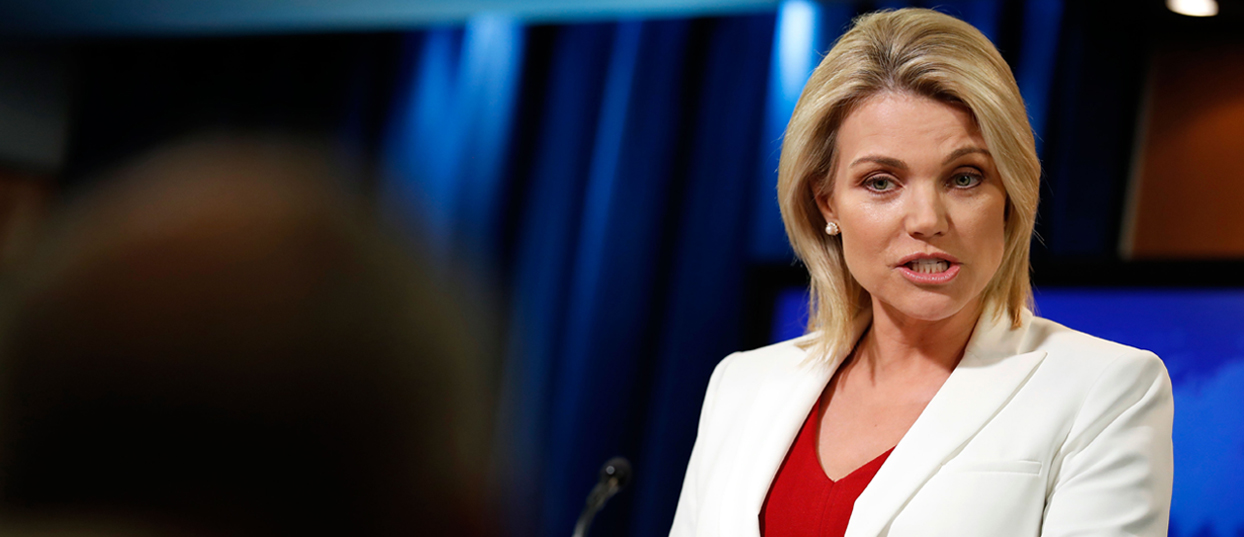 Un mois après la démission de Nikki Haley, Donald Trump a décidé vendredi 7 décembre, de nommer Heather Nauert en tant que nouvelle ambassadrice des États-Unis au sein de l'Organisation des Nations Unies (ONU).
Qui est-elle ?
Agée de 48 ans, Heather Nauert, diplômée de l'université de Columbia à New York, est une ancienne journaliste américaine de la chaîne ABC puis de Fox News.
Très peu expérimentée et connue dans le milieu politique, elle avait été nommée l'année dernière en tant que porte parole du département d'État des États-Unis à Washington. Cette dernière étant chargée des relations internationales, c'est en fait l'équivalent du ministère des Affaires étrangères en France.
Vendredi 7 décembre, le Président américain l'a donc nommé ambassadrice des États-Unis pour l'ONU, succédant ainsi à Nikki Haley, qui avait démissionné en octobre dernier après deux années à ce poste. Celle-ci ayant déclaré qu'elle « souhaitait prendre une pause ».
Néanmoins, il faudra encore attendre l'avis du Sénat américain afin d'avoir une confirmation officielle et lui permettre de rejoindre le siège de l'ONU à New York.
I am pleased to announce that Heather Nauert, Spokeswoman for the United States Department of State, will be nominated to serve as United Nations Ambassador. I want to congratulate Heather, and thank Ambassador Nikki Haley for her great service to our Country!

— Donald J. Trump (@realDonaldTrump) 7 décembre 2018
Quelles seront ses fonctions ?
Sa mission sera désormais d'assurer le lien entre les autorités américaines et les Nations Unies. C'est-à-dire, qu'elle représentera les Etats-Unis au Conseil de Sécurité, ce dernier étant responsable du maintien et du rétablissement de la paix dans le monde en améliorant le dialogue entre les nations.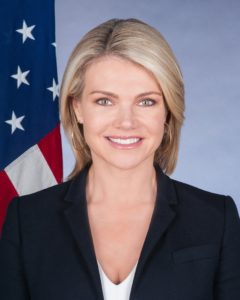 Photo officielle d'Heather Nauert
(Crédit photo : Département d'État des Etats-Unis)
Qu'en est-il de l'avis des autres diplomates de l'ONU ?
L'ambassadeur français aux Nations Unies, François Delattre, espère qu'il pourra poursuivre un partenariat « étroit et confiant » avec l'ancienne journaliste américaine.
De nombreux diplomates ont également ajouté qu'ils espèrent qu'Heather Nauert défendra les Nations Unies auprès de Donald Trump et qu'elle permettra ainsi de stabiliser et de contrebalancer l'hostilité que l'organisation internationale reçoit de la part de John Bolton, conseiller à la sécurité nationale de la Maison Blanche.