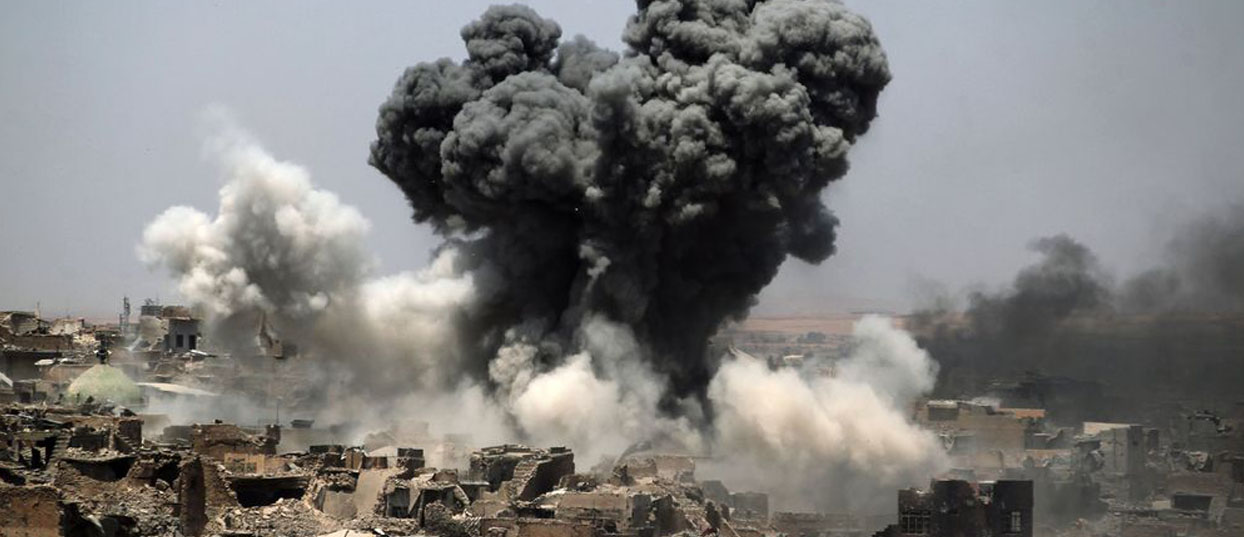 En décembre, Donald Trump avait annoncé le retrait de ses troupes en Syrie. Pendant ce temps-là les forces arabo-kurdes luttent encore contre l'État islamique (EI) et s'apprêtent à récupérer le dernier territoire aux mains de l'EI.
Le dernier territoire de l'EI bientôt aux mains des forces démocratiques syriennes (FDS)
Si en 2014, le « califat » (territoire gouverné par un calife, ce dernier étant censé faire respecter les préceptes du prophète Mahomet) autoproclamé de l'Etat Islamique (EI) possédait un large territoire en Syrie et en Irak, il est aujourd'hui retranché dans une zone de moins d'un demi-kilomètre carré entre la frontière Irakienne et la ville syrienne de Baghouz.
Coincés, les djihadistes continuent de défendre leur dernier fief face aux raids aériens de la coalition internationale et aux tirs des forces arabo-kurdes. En effet, ces dernières semaines, les FDS, ont lancé une offensive « finale » depuis l'annonce du retrait américain le 19 décembre 2018, afin de mettre un terme à l'organisation, du moins géographiquement. Et pour cause, les observateurs internationaux estiment que Daesh possèderait encore un réseau avec plusieurs milliers de combattants, prêts à mener des attaques terroristes.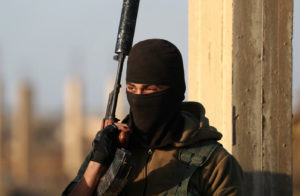 Un combattant des FDS dans la ville de Baghouz (Crédit photo : AFP)
Par ailleurs, si la prise de territoire par les FDS sur les djihadistes n'est qu'une affaire de « quelques jours » selon les dires des premiers, la progression dans la ville reste compliquée. Et pour cause, des munitions pourraient ne pas avoir explosées, dans les décombres de Baghouz, avec la fuite des partisans de Daesh, et des centaines de civils sont encore retenus prisonniers dans la zone tenue par l'EI.
Qu'en est-il des ressortissants étrangers qui combattent pour l'EI ?
Au fur et à mesure des années, les FDS ont arrêté des centaines de ressortissants étrangers ayant rejoint l'organisation de Daesh, et plus encore depuis l'offensive finale où nombre d'entre eux ont décidé de fuir la zone. Mais, en plus des combattants, les FDS retiennent des femmes étrangères et plus d'un millier d'enfants dans des camps de réfugiés, celles-ci ayant été évacuées à cause des combats.
Cette situation est condamnée par les autorités syriennes et le Président américain invite les pays européens à prendre leurs responsabilités et rapatrier leurs citoyens pour les juger. Effectivement, les forces arabo-kurdes refusent de juger les combattants étrangers.
The United States is asking Britain, France, Germany and other European allies to take back over 800 ISIS fighters that we captured in Syria and put them on trial. The Caliphate is ready to fall. The alternative is not a good one in that we will be forced to release them……..

— Donald J. Trump (@realDonaldTrump) 17 février 2019
Donald Trump incitant les gouvernements européens à prendre leurs responsabilités
Pourtant, les gouvernements européens se montrent réticents face à ce rapatriement, prônant des questions de sécurité. L'Union européenne, quant à elle, a exprimé son refus de se positionner et affirme que les décisions ne relèvent que de chaque gouvernement.